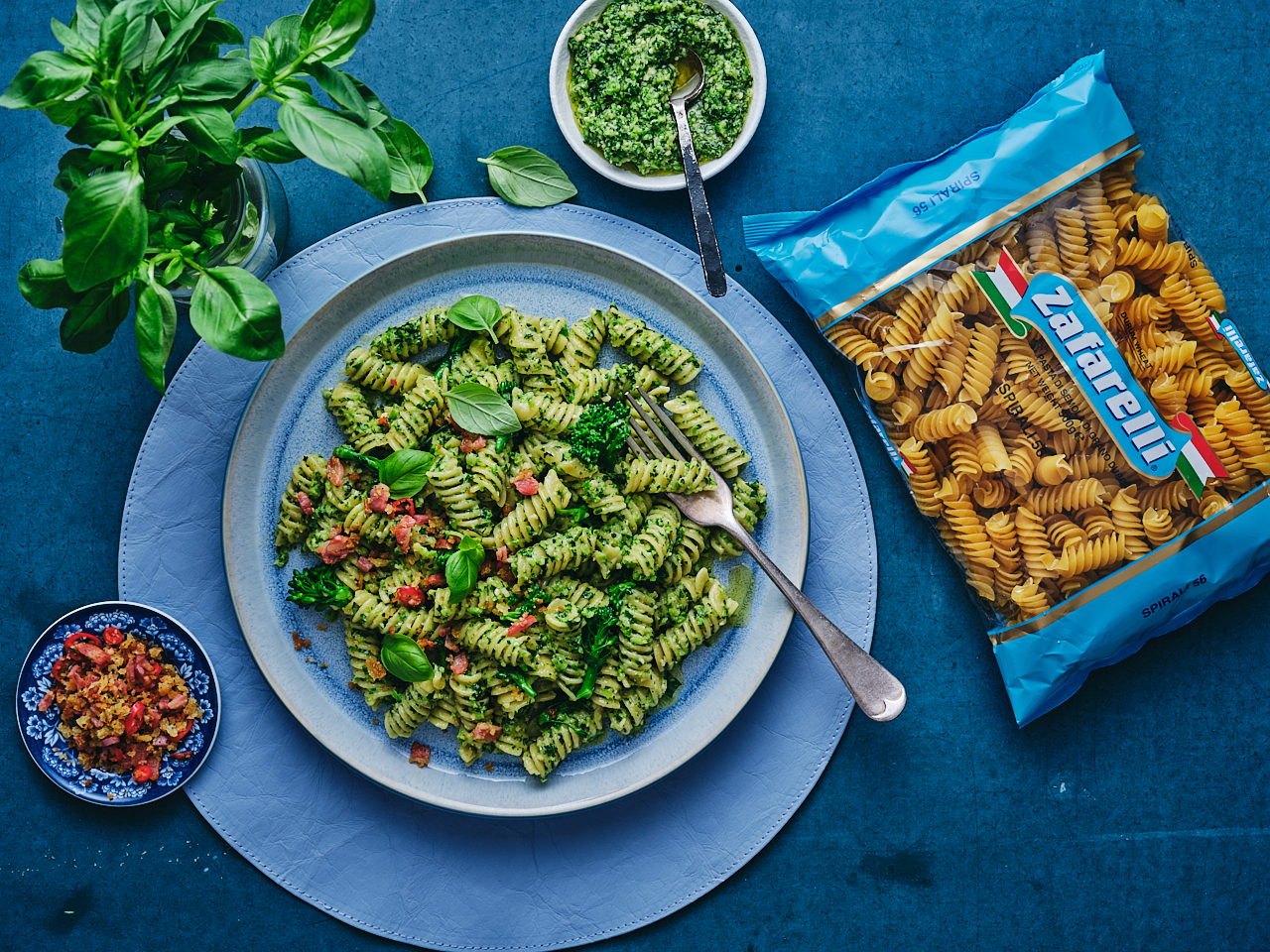 Ingredients
---
500g Zafarelli spirali
2 tbsp olive oil
sea salt & cracked black pepper
basil leaves to garnish
For pesto
3 cups roughly chopped broccolini
2 cups basil
2 garlic cloves
1/3 cup blanched almonds
1/3 cup parmesan
2/3 cup olive oil
For crumb
1 tbsp olive oil
1 cup fresh breadcrumbs
4 pancetta slices, cut into small pieces
1 red chilli, thinly sliced
Method
---
Heat a small frypan over medium heat, add the olive oil and breadcrumbs and cook, stirring
frequently, until golden and toasted. Place into a small bowl.
Add the pancetta to the hot frypan, return to the heat and cook until crispy. Add to the breadcrumbs with the chilli, mix well and set aside.
Bring a large salted pot of water to the boil. Prepare a water bath by placing two cups of ice cubes in 2L of water.
Blanch the broccolini in the boiling water for one minute, then place in the water bath immediately to cool. Strain, setting aside 1 cup of broccolini for later.
Blitz the garlic and almonds in a food processor until finely chopped. Add broccolini and basil and blitz until finely chopped. Add parmesan and pulse to combine.
Place pesto mix into a small bowl and stir through the olive oil.
Into a pot of boiling salted water, add the pasta and cook as per packet instructions, reserving 1/3 cup of pasta cooking water.
Meanwhile, heat a large frypan over medium heat, add olive oil and reserved broccolini and cook for two minutes. Add pesto and gently heat through.
Add cooked pasta and pasta water, season with salt and pepper and toss well to combine.
Serve pasta sprinkled with basil leaves and the chilli and pancetta crumb.
TRY THESE OTHER GREAT RECIPES