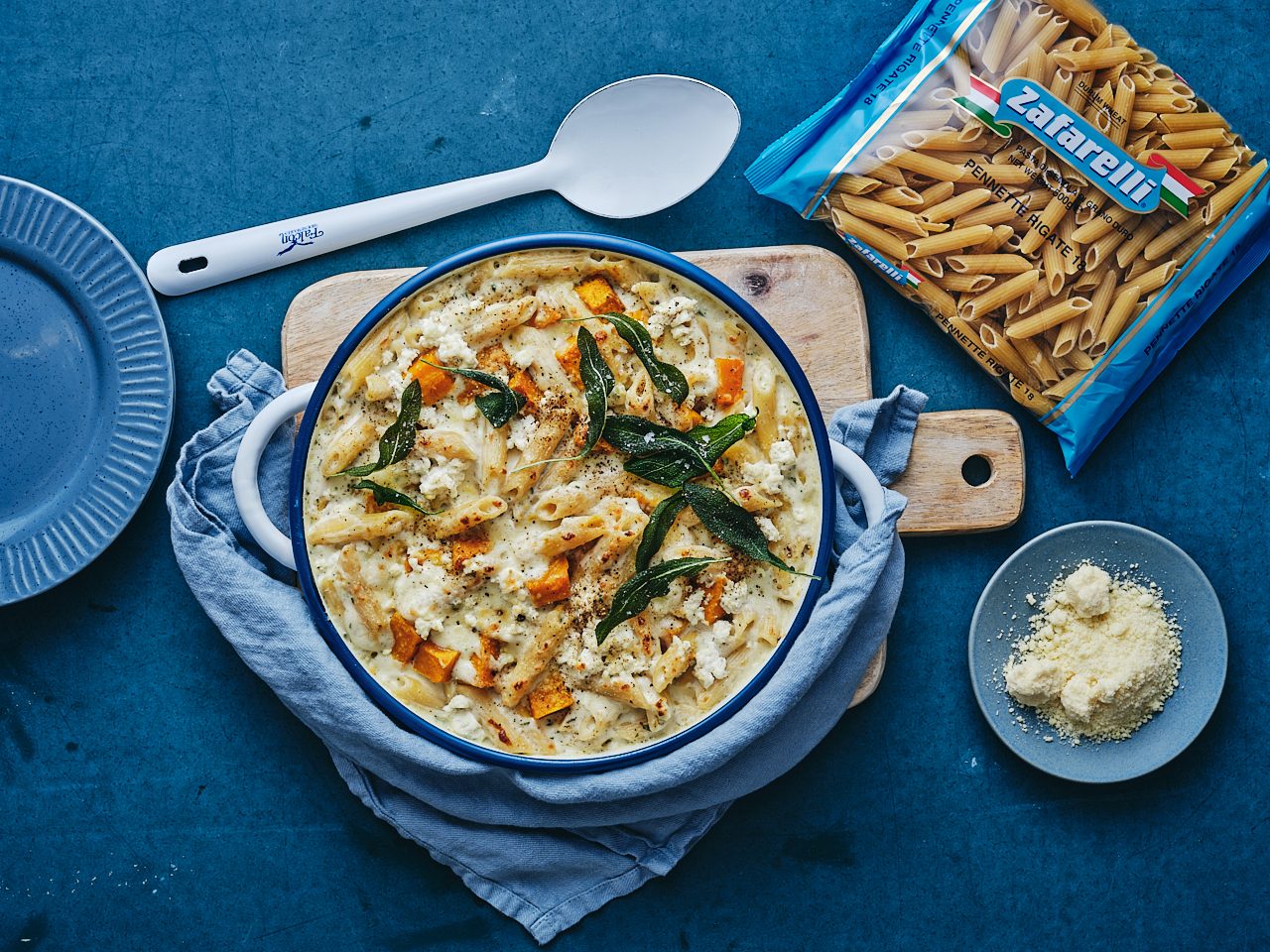 Ingredients
---
500g Zafarelli penne
6 cups diced pumpkin
4 tbsp olive oil
sea salt & cracked black pepper
30g butter
25g flour
2 garlic cloves
2 tbsp chopped thyme
2.5 cups milk
75g parmesan
300ml thickened cream
250g firm ricotta
1 bunch sage
Method
---
Preheat oven to 200C. Place pumpkin on two baking paper lined baking trays, drizzle with 2tbsp olive oil and season with salt and pepper. Roast for 10 minutes. Reduce oven to 180C.
Meanwhile, melt the butter in a heavy based medium saucepan over medium heat. Add the flour, stir well and cook until the mix resembles sand in colour.
Add the garlic and thyme and cook for another minute.
Slowly add the milk, whisking continuously until smooth. Bring to the boil, then simmer until the sauce thickens, stirring frequently.
Add the parmesan, stir until melted through, then add the cream.
Taste and season with salt and pepper accordingly.
Meanwhile, into a pot of boiling salted water, add the penne and cook for 8 minutes.
Return the penne to the pasta cooking pot, add the pumpkin and sauce and stir gently to combine.
Pour the pasta mix into a baking tray, top with crumbled ricotta, sage leaves and drizzle with
the remaining olive oil.
Bake for 20 minutes.
Allow the bake to rest for 10 minutes before serving.
TRY THESE OTHER GREAT RECIPES