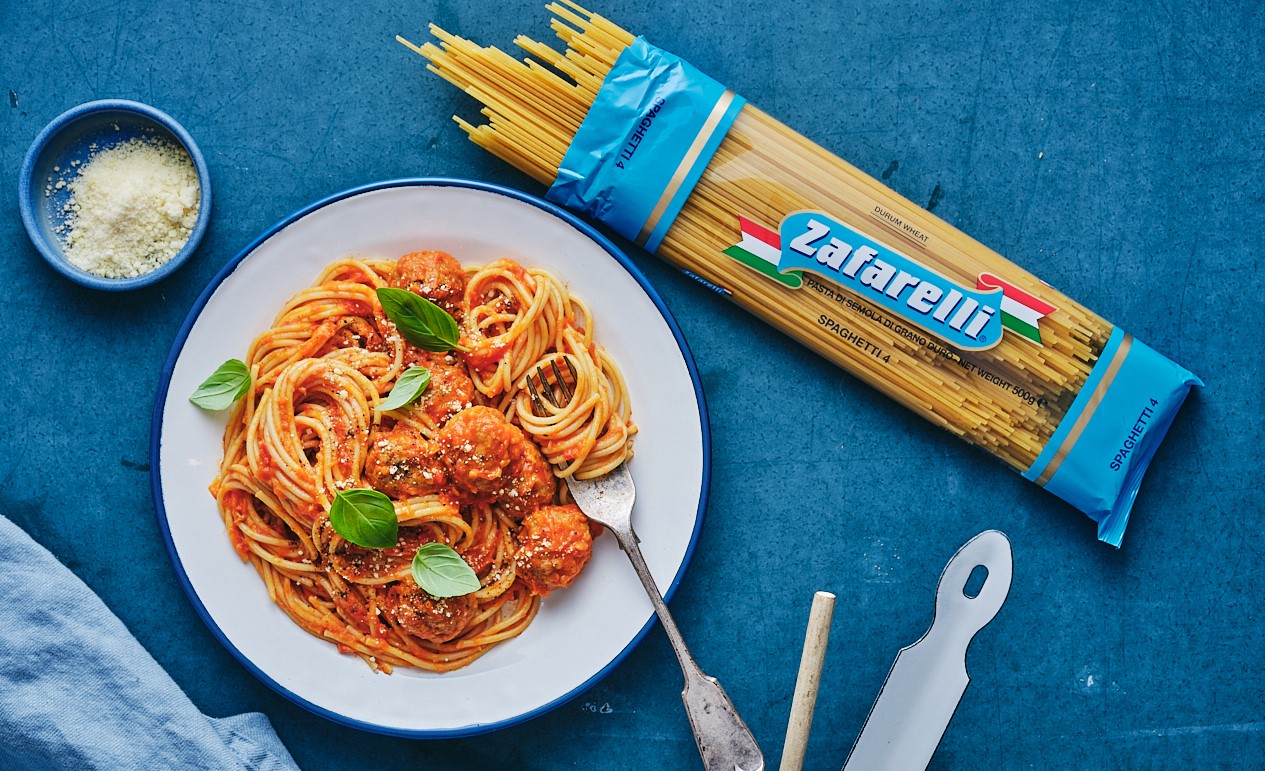 Ingredients
---
Zafarelli No. 4 Spaghetti 500g
2kg ripe tomatoes
¼ cup olive oil
1 onion, roughly chopped
4 garlic cloves, peeled and crushed
1 rosemary sprig
1 tsp salt
½ tsp black pepper
250ml chicken stock
1 tsp sugar, optional
6 Italian pork and fennel sausages
grated parmesan, to garnish
basil leaves, to garnish
Method
---
Preheat oven to 200°C .
Roughly chop tomatoes and place in a baking try. Season with olive oil, onion, garlic, rosemary and mix well and roast for 30 minutes.
Place the roasted tomato mix into a heavy based oven safe casserole dish with the stock, bring to the boil on the stove then simmer for 20 minutes, adding the sugar and extra seasoning if the sauce requires.
Meanwhile, remove the casings from the sausages and roll the meat into walnut sized meatballs (you should roll about 24 meatballs).
Place meatballs on a baking paper lined oven tray and roast for 10 minutes. Reduce oven to 180°C.
Blitz the sauce with a stick blender until smooth.
Add the meatballs to the tomato sauce, cover with a lid and bake for 20 minutes.
Meanwhile, in a pot of boiling salted water and cook as per packet instructions.
Add cooked spaghetti to the meatball sauce and stir well to combine.
To serve, garnish with grated parmesan and basil leaves.
TRY THESE OTHER GREAT RECIPES