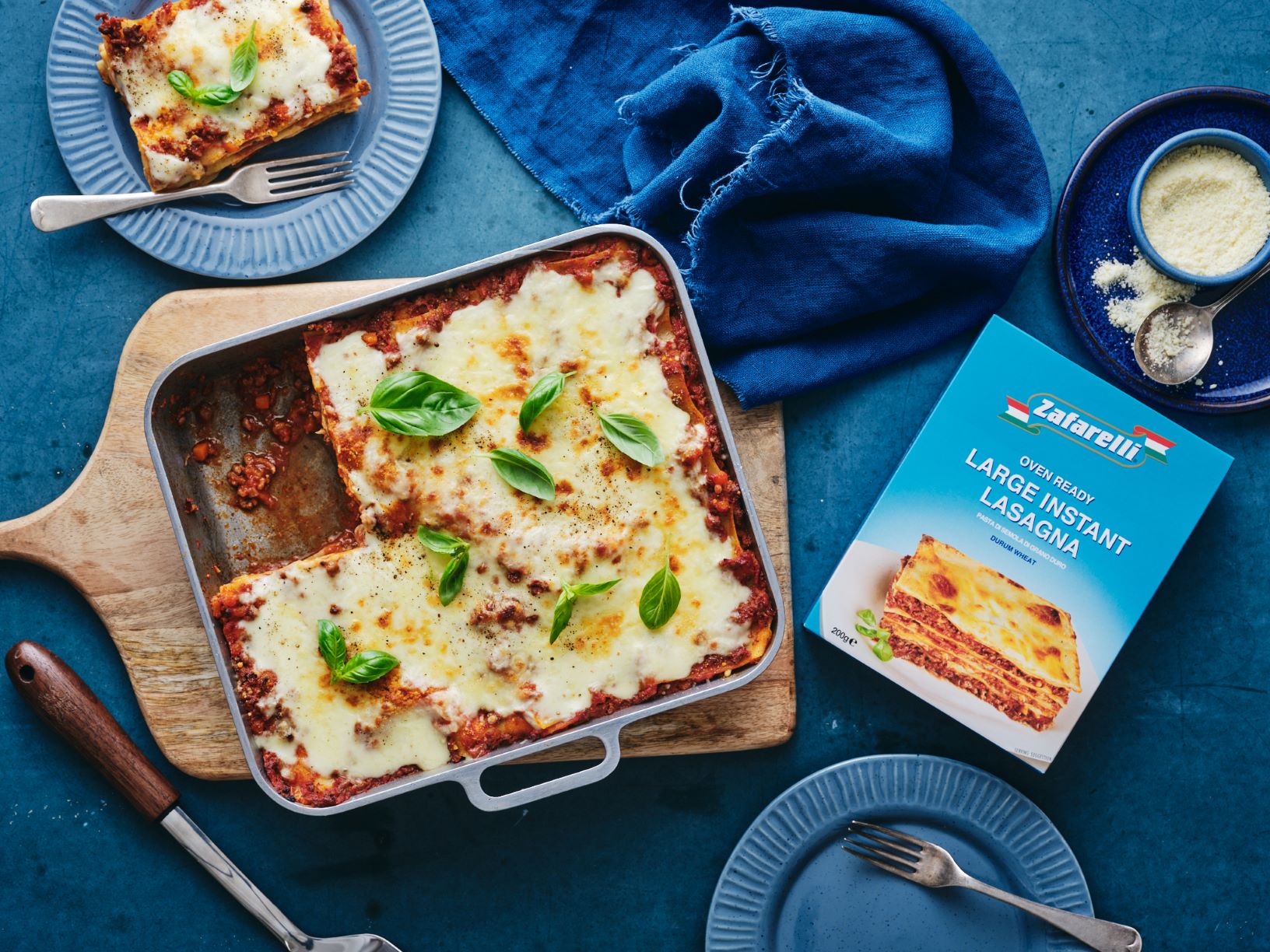 Ingredients
---
1 pkt. Zafarelli Large Instant Lasagna
250g Mozzarella Cheese, grated or thinly sliced
2 Tablespoons grated parmesan cheese
Meat Sauce
3 tablespoons oil
1 onion, chopped
125g diced bacon
300g beef mince
2 x 400g tins peeled tomatoes, undrained and chopped
¼ cup tomato paste
1 cup water
salt, pepper
1 tablespoon sugar
½ teaspoon mixed herbs
Bèchamel Sauce
2 tablespoons butter
2 tablespoons plain flour
600mL milk
¼ teaspoon nutmeg
salt, pepper
Method
---
Preparation
Preheat oven to 180°C.
Spread layer of meat sauce over base of lightly greased baking dish (325 x 225 x 50mm or 13" x 9" x 2").
Arrange one layer of lasagna over the top.
Cover liberally with 1/3 meat sauce, then 1/3 béchamel and some mozzarella slices.
Continue alternating layers of lasagna, meat sauce and béchamel to create 3 layers.
Arrange mozzarella slices over last béchamel layer and sprinkle with parmesan cheese.
Bake for 35-40 minutes or until cooked when tested with a skewer
Meat Sauce
Heat oil in medium saucepan and gently fry onion until golden.
Add bacon and mince and cook, stirring until brown.
Add tomatoes with juice, tomato paste and water.
Bring to the boil while stirring occasionally then add sugar, herbs and season with salt and pepper.
Gently simmer uncovered for 30 minutes, stirring occasionally.
Bèchamel Sauce
Melt butter and stir in flour.
Continue stirring and gradually pour in milk.
Season with nutmeg, salt and pepper.
Continue stirring until sauce has boiled and is smooth and thick.
TRY THESE OTHER GREAT RECIPES