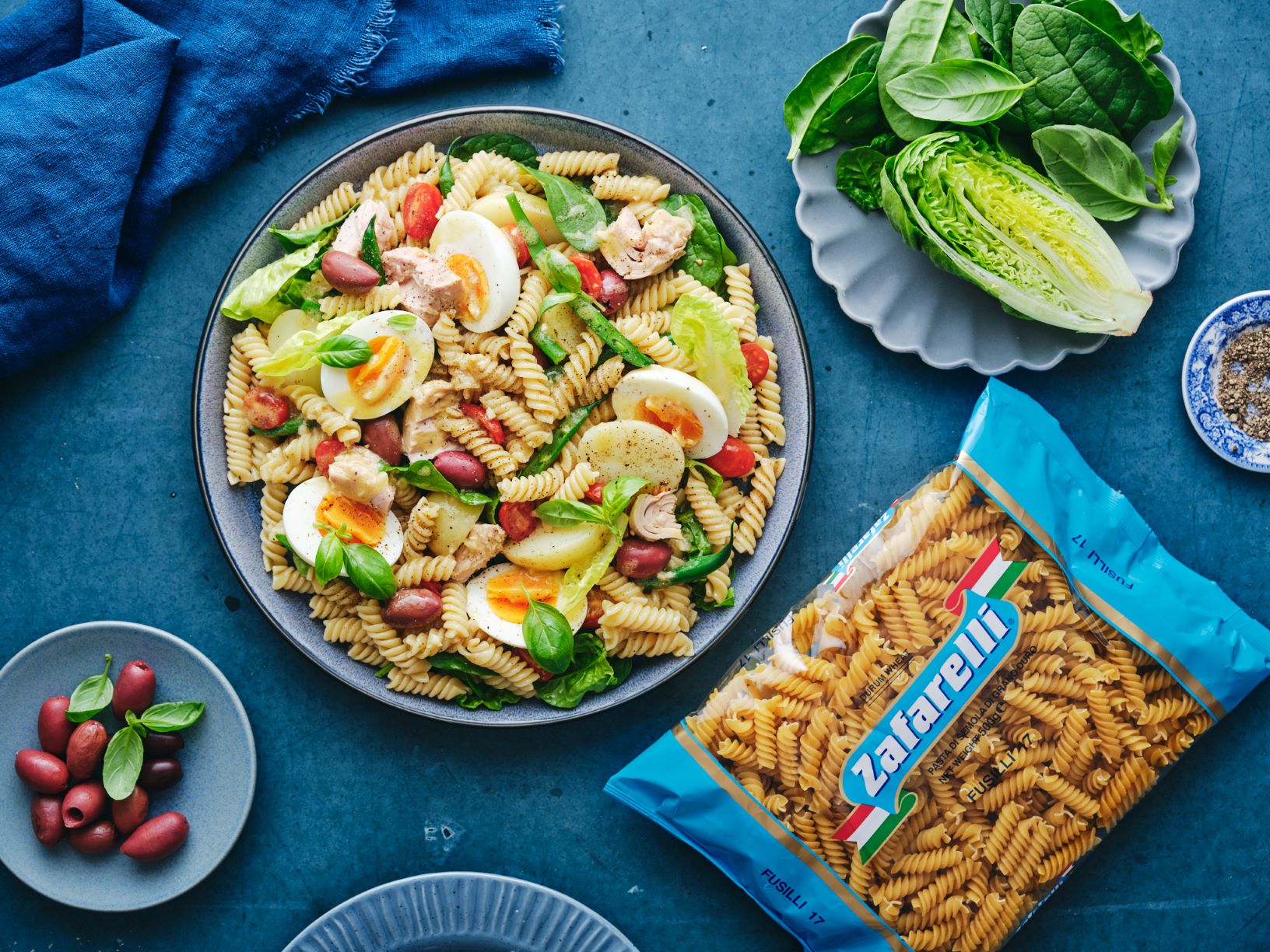 Ingredients
---
Zafarelli Fusilli 500g
3 garlic cloves, unpeeled
3 punnets cherry tomatoes, halved
3 tbsp balsamic vinegar
3 tbsp olive oil
200g green beans, trimmed
80g kalamata pitted black olives, sliced
300g can tuna in olive oil, drained
300g potato, steamed, peeled, and quartered
4 soft boiled eggs, peeled and halved
3 large handfuls of salad greens ( baby spinach, cos etc)
½ bunch basil leaves
Salt and pepper
Dressing
2 tablespoons red wine vinegar
5 tbsp extra virgin olive oil
1 small garlic glove, minced
1 tsp Dijon mustard
salt and pepper
Method
---
Preheat the oven to 180˚C.
In a baking tray add garlic, tomatoes, balsamic vinegar, oil, and salt and pepper and mix together. Bake for around 25 minutes.
Remove garlic from its skin and squish with fork and mix with tomatoes.
Meanwhile, in a pot of boiling salted water, cook pasta as per packet directions, reserve 1/3 cup of cooking water.
While pasta is cooking, blanch beans in pasta pot when there is a few minutes left to cook.
Once cooked, strain and refresh under cold water.
Combine pasta with the seasoned tomatoes, olives, salad greens, tuna and potato and gently toss together, adding some of the reserved pasta water if needed.
Whisky together dressing ingredients.
To serve, pour dressing over, add eggs and basil leaves.
TRY THESE OTHER GREAT RECIPES