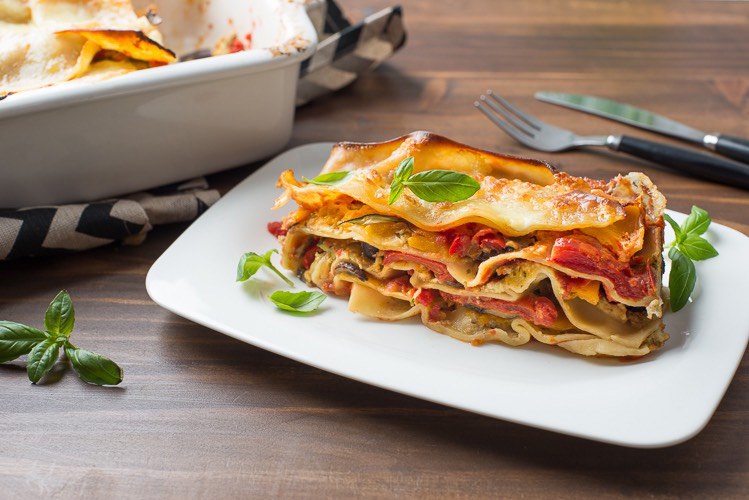 Ingredients
---
1 pack Zafarelli Instant Lasagna sheets
500g plum cherry tomatoes, cut in half
1 large zucchini, cut into 5mm ribbons
500g butternut pumpkin, cut into 5mm slices
1 lge red capsicum, seeds removed, cut into strips
500g mushroom cups, sliced
1 tsp salt
1 tbsp olive oil
1 egg white, lightly beaten
600g smooth ricotta
2 tbsp basil pesto
1/3 cup grated Parmesan
2 x 400g cans crushed tomatoes
2 cups grated mozzarella
Fresh basil leaves to serve
Method
---
Preheat oven to 180°C.
Line a large baking tray with baking paper.
Place the prepared vegetables into a large mixing bowl; add the salt, and olive oil and toss to coat, then transfer to the baking tray. Place the tray in the preheated oven and roast for 20-30 minutes.
In a bowl, mix the egg white, ricotta, pesto and Parmesan.
Choose a baking dish – 22cm x 30cm.
Spread ½ can crushed tomatoes on the bottom. Top with lasagna sheets. Spread the lasagna sheets with a layer of the ricotta mix, then a layer of roasted vegetables, then ½ cup mozzarella. Repeat the layers, starting with tomatoes. Finish with the lasagna sprinkled with some grated mozzarella.
Cover with foil. Bake in oven for 30 minutes, then remove foil and bake a further10 minutes.
Sprinkle the top of the lasagna with fresh basil leaves to serve.
Preperation Time
50 MINS
TRY THESE OTHER GREAT RECIPES