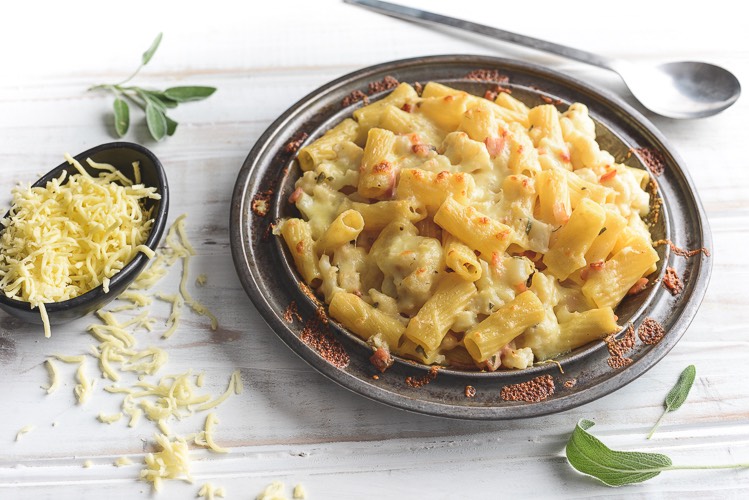 Ingredients
---
1 pack Zafarelli Elicoidali
1⁄2 medium cauliflower, trimmed and cut into small florets
2 tbsp butter
2 cloves garlic, crushed
2 tbsp flour
4 tbsp cream
1⁄3 cup grated parmesan cheese
1 tsp Dijon mustard
Salt and pepper to taste
2 tsp lemon juice
4 slices bacon cooked and chopped
6 sage leaves, chopped
1⁄2 cup grated mozzarella
Method
---
Cook the pasta according to the packet instructions, drain.
Pre-heat oven to 180˚C.
In large saucepan of boiling lightly salted water, cook cauliflower until tender, approx 4-5 minutes. Reserve 1 cup of the cooking liquid, drain.
Melt the butter in the saucepan and gently sauté the crushed garlic for 1-2 minutes. Do not allow to brown. Add the flour and stir to cook for 1-2 minutes, then whisk in the reserved cooking water and cream, allow to thicken.
Add Parmesan cheese, mustard and season to taste. Stir in cauliflower, lemon juice, bacon and sage leaves. Mix through the cooked pasta.
Transfer to six lightly greased individual ovenproof dishes.
Sprinkle the top with mozzarella cheese.
Bake in preheated oven (180˚C) until cheese is melted and golden, approx 7 -10 minutes
Preperation Time
30 MINS
TRY THESE OTHER GREAT RECIPES