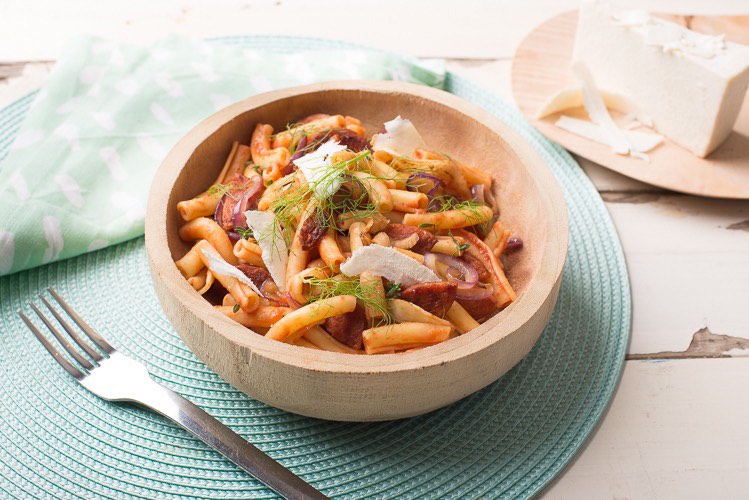 Ingredients
---
1 pkt Zafarelli Casarecce
1 tbsp olive oil
2 chorizo sausages, halved lengthways, chopped
1 medium fennel bulb, trimmed and thinly sliced, reserve fronds
1 red onion, peeled and sliced
2 garlic cloves, finely chopped
1/2 cup verjuice
1 cup vegetable stock
1 cup tomato passata
1 tbsp oregano leaves
Salt and pepper to taste
Grated dried ricotta to serve
Method
---
Cook the pasta according to the packet instructions, drain.
Using a large non-stick frying pan, heat the olive oil over medium-high heat.
Add the chorizo to the pan and cook for 4 minutes then add the fennel, continue to cook, stirring occasionally until chorizo is golden.
Add into the pan the red onion and garlic. Cook a further 2 minutes or until fragrant.
Deglaze the pan with the verjuice and stock; simmer for 2 minutes or until reduced by half.
Add passata and oregano leaves, stirring occasionally; simmer for 10 minutes to allow the sauce to thicken.
Toss the cooked pasta through the sauce.
Season to taste with salt and pepper. Serve sprinkled with grated dried ricotta and the reserved fennel fronds.
Preperation Time
10 MINS
TRY THESE OTHER GREAT RECIPES